Messages

18
Location
Vehicle

T6.1 Ocean 150
Hello everyone. I'm from Sunny South London! I am now the excitedly happy owner of a Cherry Red Ocean. I chose Cherry Red as I figured it might be more of a hippy camper image and less of a "van man" type van but kids are making fun of me saying it looks like a Royal Mail van! What do they know?
It's been quite a long journey from the dream to the reality. I've been staying in static caravans on campsites for 20 years now - mainly in France. Over the years, I've thought about buying everything from my own static to a towing caravan to a motorhome, but a few years ago I saw a VW California on a campsite and realised that was what I wanted.
Since this time last year I have been looking at all the options, and watching various youtube video and reading this forum as well. I appreciate all the good advice on this forum and the fact that you don't get bombarded with ads or pop-ups. I reason that all the good advice on this forum on what to buy/not to buy, and the optional extras to go for has saved me so much time & money that I should put back in so gladly paid the membership fee. Thanks to all the contributors, I hope I can contribute more to the forum with my own experiences.
I bought from AutoEBid, who were very good and without hesitation would recommend using them to get the 11% discount. They regularly communicated by phone/email with updates every month regarding progress on my order. Reading through the various posts this has been missing from a lot of dealers. I must admit that I was a bit apprehensive about ordering with them as it felt a bit like ordering a pizza. You go online and use their tool to pick a base model and then add the optional extras. You are presented with a price and someone calls you up to answer any questions or if you want to progress. If you progress then you pay a deposit to a main dealer and then further down the line, the balance when the car is ready. And then a nice man came and delivered my car to my house for me. Although you do not get any handover as you would from a main dealer but there so much advice in this forum and the various youtube channels that I did not feel I missed out. Of course I'm making a joke about the pizza but they were 100% professional, I was just not used to buying a car like that.
Which brings me to the VW California Youtube channels. I have to call out the channels that I found very useful. The is a Youtube channel called "A Bus and Beyond". The videos are informative and enjoyable to watch. Thanks guys for the effort that you have put it. I also enjoyed watching Chili's Videos. The videos are not in English, but if you watch on a computer there is a function that allows for subtitles to be switched on. This option will not work on a tablet/mobile device. Also California Chris. His videos are just as good as any handover and I think better than the Camping Supplement that comes with the User Manual.
The car is just sat on the road outside my house so am looking forward to when the restrictions are lifted to go on day trips, overnight stays, weekend trips and much longer trips. I have four kids hence I'm used to booking everything way in advance so it is going to be a huge change in mindset to hit the road without having a prior booking. As I've never been to a campsite, what is the policy to just rocking up. Is booking essential? Is a two night minimum required over the weekend?
The other thing that I like to do is outdoor cooking. I like nothing better that having a cold beer whilst cooking some good food over a live fire. Over the years, I've accumulated portable BBQ's, fire pits, a portable pizza oven so am looking forward to taking these on the road with me. I'm a sucker for buying these things. I hope to share some of my experiences of what works/ doesn't work, tips, hacks etc. over the coming months.
Anyway, I think I've rambled on for a bit too long, but if you happen to come across an Indian guy with a Cherry Red California and a black Labrador dog, then that's probably me. I'm kind of going out on a limb here, but I'm guessing there is not that many with that combination, so come and say hello!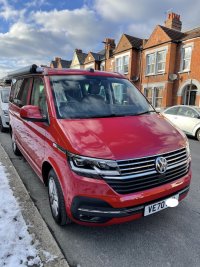 Last edited: