chris ratay traveler
VW Newbie - 2023 T6.1 Ocean 204
VIP Member
Messages

159
Location
Vehicle

T6.1 Ocean 204 4 motion
I just purchased a new Ocean for Overland Travel and thought I'd share some things I learned during my research. I knew about 4-Motion before I started shopping, but didn't realize early on that a Locking Rear Differential (1Y4) was even an option and almost made a purchase I personally might have regretted. Fortunately, many hours on this forum helped me understand the difference and I got what works for me. I thought I'd consolidate a few of the things I found.
In most cases the 4-motion is sufficient for a bit of wild camping, especially wet grass or easy off-road. I enjoy 4x4 driving in remote places, and in general traveling off-pavement, so I opted for the locking diff. It's
not
an expensive option when ordering new, but difficult to add after market. When I was searching For Sale adds in Europe, it was hard to put Locking Rear Diff or even the VW option code 1Y4 in the search criteria. Instead I would search 4-motion or 4x4, and then looked at interior photos for the "magic button". AutoScout24.com allows you to search Locking Differential on their website, but not on their app. I couldn't find it as an option on Mobile.de. (Downhill Assist is a separate option, and although should be included (imo) with Locking Diff, it must be specified)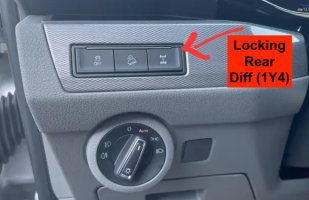 It seems COAST versions are not available with Locking Diff, (and OCEAN are not available with manual roof).
Here are some videos that illustrate some of the capabilities.
4-Motion vs 4M + Locking Diff visualized on rollers. EDL is another term for 4-Motion.

Be sure to see the different applications in the bottom left while video is playing. ​
Locking Diff Explained/Demonstrated on trail

​
I originally thought soft beaches were off-limits, but this videos shows it's quite doable.

​
4-Motion fun -

WOW

, these vans are really quite capable (with or without locking diff)!

​
I'm sure there are even more great demonstration videos out there, so feel free to share​
Last edited: