Hotel California
18 'till i die....
Staff member
forum co ordinator
Top Poster
VIP Member
Lifetime VIP Member
Messages

10,788
Location
Vehicle

T5 SE 140
As owner from new bought (in Belgium ) 2012 SE , i was aware of the corrosion issue due this wonderfull forum . I knew from the start what the issue (the corrosion itself ) was owning a LR Defender for 10y and those nice tin cans also have alu bodyparts witch make contact with the metal bodyparts witch gives the nice bublles from underneeth the paint .
Curiuos as i was checking my roof since a while i started seeing the effect from about a 2,5-3 y old Cali and from thereon every time i washed the Cali .
Never ever visited my Belgium dealer after buying i (as some of you will know
) am a client in Camper Centrum Nederland (CCN) at Amersfoort - Holland . There they told me that there was no problem or worry at all about this issue and i was put down on the (long) list to wait for the VW approved repair .
CCN works very close with the factory , specialy with the Cali assembling plant at Limmer (seen this when i did the factory visit with CCN before we did the visit with the forum ) and for a fact part of the way and handeling of the official repair is done now , is come together in assocation with CCN as they have huge deal of knowledge regarding Cali's .
Given the fact it's a major work , cutting out the front section of the fixed part of the roof i was concerned it beeing done on my 2012 Cali as it was not all that a lot corroded yet , but if not done now the warrenty got by and i would have to pay myself if later work should be needed , if things got worse . I was concidering to not go in to the repair for a while but in the end went thru with it . Note that all this corrosion is mainly just optical and not cause problems with the stiffness of the roof .
This is mainly what the damage was until last week , 6,5y old .
Rear right /below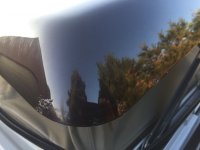 Right side about in the midlle of the roof lenght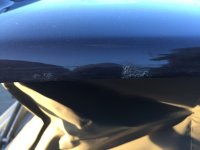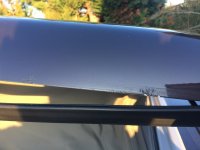 Front section under the roof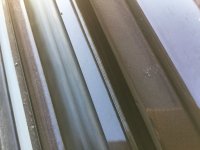 Front section above the windscreen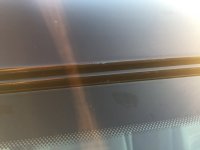 All very litlle noticeble if not aware ...
I brought it in last week sathurday and picked it back up today .
They need the Cali 5 working days to get the repair done , but as i'm 160km away from Amersfoort i took the time to drive there on a sathurday so was without my Cali 7 days .
The elevating roof was taken of , and the front section cut out by CCN .
All the parts including the new plastic cap/front section was painted by a bodyshop working close to CCN as they do not have a bodyshop themselves . They do 2-3 repairs each week for a few years now ...
On thursday all the parts got back and put on again together with a new canvas . Note that in Holland the procedure "was " to change the canvas in a new T6 canvas with every roof repair but since a while now VW has brought this back to "try and re-use the canvas if it's come out undamaged" (the cost where to high i guess?)
As i was concidering to go for a new blue (like on the two-tone) canvas i informed if this was possible to change to and the reception got back to me over telephone saying it would cost me about 500€ as this was not included in the repair . Thinking it over i put the idea (500€ ?) out my head and asked CCN to change in a normal light grey standard T6 canvas if needed ...
Supprised i was when picking my Cali up today a brand new blue canvas was put in !
It came totally unexpected as i was talking to the owner of CCN when i brought the Cali in last week and he agreed to make sure a new (standard T6 ) canvas was to be put in regardless the old one came out unharmed .
Now it seems as i was informing before to go for a blue canvas in a way this all was noted somehow and the mecanics thought i wanted a blue one....witch i not signed for (500€ remember) .
Now i can see if i like the blue one and they agreed to change it back in to a standard canvas if i want to . Must say i first liked the idea , then (500€) rather disliked it and finally set my mind on a light grey (standard) canvas also the wife not like the blue at all...
We will see in time , no pressure is given i'm free to say if needed a change in time
This is how i got it back , pictures taken in the rain unfortunate...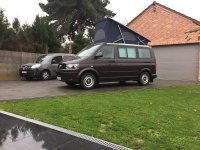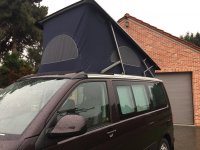 Last edited: