Amarillo
Tom
Top Poster
VIP Member
Messages

8,145
Location
Vehicle

T6 Beach 150
I'm planning better use of the underbed storage area in our 3 seat bench Beach boot, in particular the space between the rear of the bench and the multiflex. Here is a cross section of the crates I intend to make for that space.

The two large crates and the gas box can remain in place with the bed made up, the crates rest on the floor rails, and the gas box between the rails. Resting on top of the crates, but clear of the gas box, will be two trays. These need to be removed and slid under the van below the sliding door to make up the bed. On top of the trays, and level with the top of the multiflex board, I hope to make a folding kitchen table (approx 150cm by 44cm), the leg mechanism fitting within the tray cavity.
One crate to contain things like wetsuits, the other wellies and waterproofs. The crates cannot be slid out without unpacking the kitchen table and trays, but the gas box will slide out. I have mocked up a cardboard crate, and it fits into the space beautifully.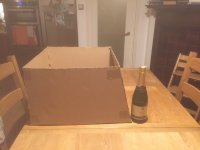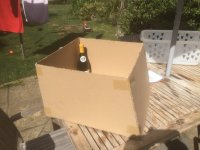 I am planning to make make the crates and trays from 18mm pine, with the front of the crates from 5 x 28mm hardwood dowel so contents can be instantly identified and to use as a grab handle.
The folded table can also act as an extension of the multiflex, giving a surface area of 102cm by 150cm. This may be just large enough to serve as a double bed for our two young boys without us having to make up the 150cm by 200cm bed. We shall see.