Messages

60
Location
Vehicle

T6 Beach 150
Ok, I know there are lots of similar threads but this solution works for us...3 weeks in France before having to cut it short to avoid quarantine-quick unpack/repack.
We are a family of 4 and a dog-We have the brilliant but very bulky Vanessa Mattress, Vanessa storage bags and are taking a Khyam Motorhome Sleeper, Gas Barbecue, food to be self contained and of course beer and wine......
First in-Barbecue,gas bottle 64 litre "Really Useful Storage box " containing all footwear-Vanessa storage bags packed with clothing either side and kids fold away beds for use in Awning-Awning on top of Vanessa Mattress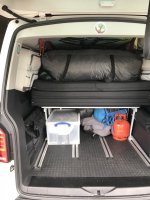 Next In is Two 84 Litre "Really Useful Storage boxes"...Bedding can be fitted behind these between 64 Litre and Multiflex (Note barrel of beer in Right hand storage box !)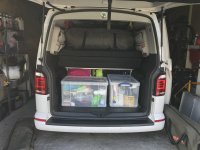 Next , Folding table placed on Top of 84 litre boxes to form solid base for a further 64 Litre "Really Useful storage box" and Fridge which can be plugged into 12 V.
Two Oztent Chairs now between Mattress and the fridge !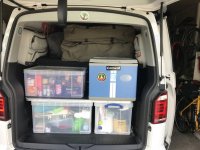 Unpacking on site is very quick and the boxes can be stacked inside the awning-Hope this helps