Making the Most of our Coast
VIP Member
Messages

546
Location
Vehicle

T6 Coast 150 4Motion
Betsy is our new Beach. We've had her since October last year and have tried various ways to store our stuff in her, in a practical way. The big bottleneck has always been the Multiflex board so we decided to take it out completely and start with a blank canvas. Here's the result: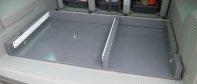 We started with a base unit, anchored at seven points in the floor rails, using standard VW T-bolts. On top of that we bolted a storage unit made of 10mm and 15mm marine ply. This unit holds two "towers" of industrial crates in various sizes, mounted on runners to turn them into drawers.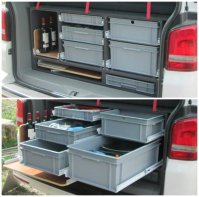 Each drawer has a specific purpose. One for cooking equipment (gas bottle and Intellichef), one for pots, pans, plates and food, one for cutlery and cooking tools, one for miscellaneous items (spare gas, extension lead, lantern, etc.), and one for spare sheets, towels, etc.
The remaining space (on the left) is our wine bar!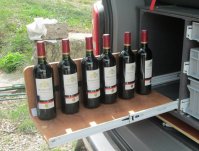 The base level has a crate for dog food and a pull-out table for cooking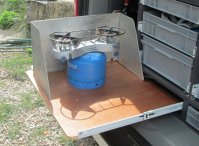 The top of the storage unit is 15cm deeper than the original Multiflex board. This extends our bed to a full 200cm, and creates additional space behind the bench. The sides of the board have hinges, giving access to the space above the wheel arches. (We store shoes on one side and our Cali Topper on the other). On top of this board we store our mattress, clothes and bedding. In the space behind the bench we keep our Popaloo and awning sides.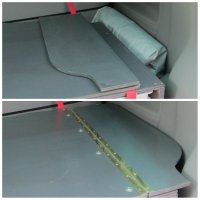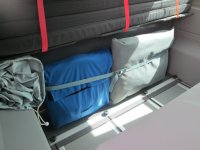 We travel with two Golden Retrievers. During the journey they live on the floor in front of the bench. At night one of them sleeps in the footwell, the other on the front seats. We made a "bridge" between the seats to have a continuous sleeping area.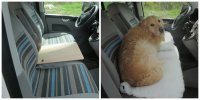 We carry two jerrycans of 5 liters for our drinking water. They fit perfectly in the door pockets.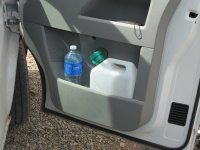 The living area: we have a Waeco CDF-25 fridge which is big enough for two 1.5 liter water bottles and food for two to three days. The space between the fridge and LH seat is used to store our level ramps and hook-up cable. The Brandrup bags behind the RH seat are our entertainment centre: computer, Kindles, DVDs, cables, batteries, etc. The pockets in the side of the van hold all our breakfast necessities: kettle, coffee, tea, mugs, etc.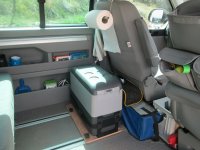 Oops! Too many pictures. Part 2 to follow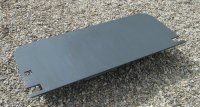 Last edited: