Messages

8
Location
Vehicle

T6 Ocean 150
Hey Guys, Having had my Cali a while and having taken an age searching the entire web for storage boxes with the exact dimensions to match the available space in the Cali I can now report that I have finally done it. I did consider the sliding drawer but was disappointed to find that it wastes such a lot of space which is absolutely at a premium in this vehicle.
I know that we all have different needs but you can now maximise ALL the space under the shelf in the rear of your pride and joy.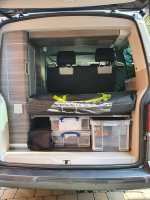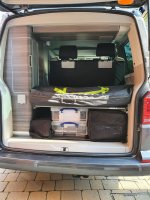 I achieved this by buying the following:
Qty 1 x 35 Litre Really Useful Box (Dimensions Lx480mmxW390mmxD310mm
Qty 2 x 33 Litre Really Useful Box (Dimensions Lx710mmxW440mmxD165mm
You can get these all over the internet including at
www.reallyusefulproducts.co.uk
1 x Thetford Porta Potti Qube 335 plus holdall
1 x Thule Leveling Ramps plus holdall
These combine to make use of ALL the available space under the shelf and you even have room at the side for the windbreak.........
The rear tailgate closes perfectly!
Oh and the photo shows the comfort mattress in its own holdall.....this is a Kampa XL Carry Bag which was made for Recliner Chairs but it was made to measure for the mattress....
Hope this post helps out and saves some time.
All the Best. Happy Campings.