Messages

115
Location
Vehicle

T5 Beach
Hi everyone, I hope you are well during these times and that conditions are improving for you locally?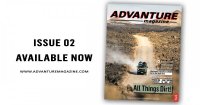 Advanture Magazine is back! This is the only magazine dedicated to vanlife adventures in Europe. In this issue, it is all things dirt. Will it be the summer of camping? What did you all get up to during the Coronavirus lockdown? Discover some awesome locations for MTB, check out the incredible...
advanturemagazine.com
During the confinement here in Barcelona I worked super hard to create the second edition of Advanture Magazine, that I would love to share with you all who are not on the subscription list! It is a free to download vanlife magazine, and this issue is packed with amazing photography and a number of stories from trips around Europe. My California has been parked up for 2.5 months now, so I am really looking forward to being able to go back out in it again very soon.
Would love to get feedback on the content, so please checkout out when you have some time and happy camping!
Alex
Editor